Putting all the Right Stuff in front of all the Right People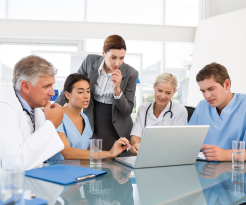 The Resource Room is a stand-alone medical or dental practice extranet, in which every document that you use to run your practice is made available to exactly those practice members whom you decide should be able to view them.
Who'll use your Resource Room?
Once your Resource Room is created, everyone on your staff will know exactly where to go to find everything. The days of digging up old (and often obsolete) documents off their hard drive or from another staff member will be long gone. No more posting of quickly out-dated paper copies on bulletin boards or handing them out to everyone. They may even stop calling you whenever they can't find something! And no one can say they "didn't get a copy" of anything anymore.
It couldn't be any easier
All you'll need to do to add a new document to your Resource Room is to log in, go to the desired folder, and drag-and-drop the document file. It'll become immediately available to everyone who has permission to view that folder, and an automatic instant message will be sent advising them of the availability of the new document.
Controlling access
Every document folder you create can be assigned permissions that limit which people or groups of people can have access. From that point on, anything dropped into that folder will be available to only those people. Adding a new employee couldn't be easier – just add them to a group and they'll immediately have access (or just remove them if they leave).
Everything's up-to-date
As soon as you change any practice document, just replace the existing one in the Resource Room. The instant message will go out and no one will have access to the old document anymore. Removing a document is even easier – just log in and delete it.
You don't even need to do it all yourself
If your practice is large enough that you have other department heads and managers, you can allow them to upload and maintain documents into specified folders. You've probably got enough to do...
Extending beyond your practice
If you ever have to make information about your practice available to other organizations (hospitals, clinics, referring or referrer practices, etc.) you can add them to your Resource Room and give your fax machine a much-needed rest. They'll only be able to see folders they have permission to view. Great for on-call schedules, practice directories, etc.